Our Company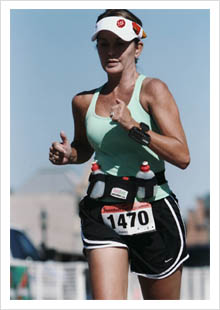 What is GasCap? GasCap is a fun and functional lightweight hat, designed to lighten the load for long-distance runners by providing an easy, convenient way to carry gel packets.
About Us
Carla Melton, a devoted mother, business owner, and passionate long-distance runner, founded GasCap in 2007 to solve a problem she struggled with herself: the heavy weight and annoying bounce of an overloaded runner's fuel belt. Based in the beautiful foothills of Colorado, GasCap now produces a line of comfortable, fun, and functional caps and visors, available in 4 color combinations.
History
In the fall of 2006, while she was planning what to pack for the upcoming Twin Cities marathon. She thought of how heavy her fuel belt always was once it was loaded up it with water and gels, and it hit her—why not use her head? (Literally!) By carrying her gels on her hat, she could reduce the weight and bounce of the belt, stay fueled up and be light on her feet, all at the same time. She ran the race, came home, and immediately started experimenting with various raw materials (an old running hat, mesh laundry bag and hair ties, to name a few) until she found the design that was lightest, easiest to use, and worked best. And just a few months later, in January of 2007, the first original Gas Cap was produced.
Mission
The mission of GasCap is to ease the burden for all long distance runners by creating a smart, comfortable, and convenient way to carry necessary fuel. Where are GasCap hats sold? Available online and at race expos across the country
Where are GasCap hats sold?
Available online and at race expos across the country